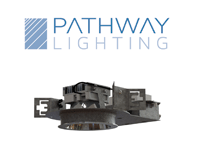 Pathway Lighting Products, Inc. is pleased to announce the release of the S4 Shallow Plenum series. The overall height of these fixtures is less than 4" (– the ceiling thickness), it is available in 4", 6" and 8" round or square apertures, and up to 2000+ delivered lumens. The fixture series includes: open, open wet location, regressed lens wet location, flat shower lens, wall wash, decorative glass, and a flangeless option.
The downlight assembly (DLA) consists of the trim, LED module, and a quick-connect wire harness for fast installation. The junction box with driver attaches securely to housing using magnets; removal is easy for routine maintenance. All modules will be pre-programmed at the factory and new construction frame-in kits are available for Quick Ship.
Additional features and options:
-15 dimming options
-Decorative glass elements
-Remodel and IC-rated styles
-Thick ceiling options available
-Air-tight and Chicago-plenum rated
-Premium L-bar hanger bars included
-Emergency back-up with internal test switch
-Safety tether
-Competitively priced!
For more information on the series, please view our S4 Shallow Plenum Brochure.
About Pathway Lighting Products, Inc.
Pathway Lighting, located in Old Saybrook, CT, is an innovative designer and manufacturer of specification-grade LED luminaires. Our product line is designed for the commercial and institutional markets and includes: downlights, wall washers, adjustable accents, decorative pendants, cylinders and emergency egress fixtures. As an independently-owned American lighting manufacturer, we are able to provide responsive technical support, as well as fixture modifications and custom products. www.pathwaylighting.com