More than 500 new products and a powerful new Search Engine are featured on the totally-redesigned Nora Lighting website (www.noralighting.com). With a clean, contemporary look, the new Nora site makes it even easier to review the company's entire lighting line or to pinpoint products of specific interest. The website can also be discovered through social networks, including Face Book, You Tube and others.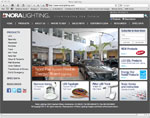 An updated Search Engine streamlines information access – all products can be found using model names, product numbers or general description. Product numbers do not require any punctuation. Viewers can also quickly link to Nora's latest, energy-saving fixtures by clicking through to specific LED SSL luminaires or to Energy Star-Rated fixtures. More than 5,000 Nora products are shown with details that include download-able specification sheets and installation instructions. Entire product categories can be viewed by scrolling through a listing of Nora fixtures, which includes: LED, Specialty, Recessed, Multiple Systems, Track, Mini Track, Nora Rail, Glass and Pendants, Wall Sconces, Under Cabinet, Transformers and Emergency and Exit Lights. An updated Resources section has been added that features download-able Nora promotional literature and news, plus upcoming trade show dates. In addition, the Nora business website (Norainfo.com) can be accessed through the new Home Page and is useful to track orders and view account history.
Nora commercial and showroom reps are listed with geographic territories and contact information. Nora Lighting is among the industry's leading manufacturers of lighting fixtures for residential, commercial, retail, hospitality, educational and health care installations. The company has been in business for more than 22 years and is represented nationwide. Nora products are on display in professional electrical distributorships and lighting showrooms. For more information, contact a Nora lighting professional or call 800.686.6672.