Four lighting solutions from Hubbell Lighting were selected for inclusion in the 2019 Illuminating Engineering Society ("IES") Progress Report, a leading industry showcase for the most innovative developments in the art and science of lighting.
The Progress Report's product submittals are reviewed by the IES Progress Report Committee, a select group of lighting industry professionals who possess expertise in varied areas within the field. Each submittal goes through a comprehensive judging process and is evaluated for uniqueness, innovation and significance to the lighting industry.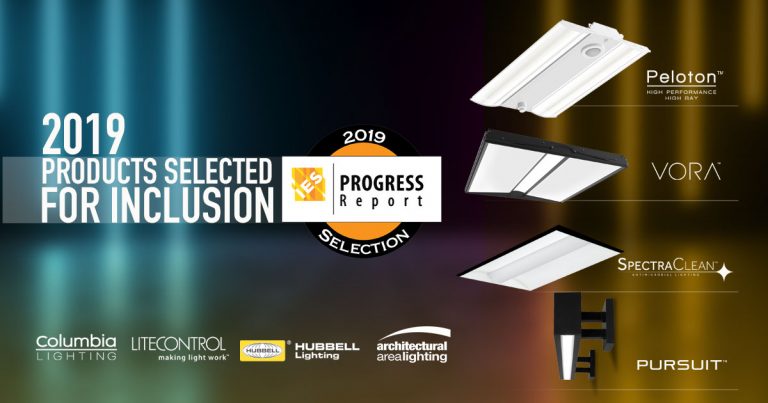 The luminaires from Hubbell Lighting selected by the IES Progress Report Committee apply to a variety of architectural and commercial lighting applications, including manufacturing, hospitality and education. This year's selections include:
Peloton™ from Columbia Lighting. Peloton is the first in its class of LED linear high bays to test and certify to the UL 924 emergency lighting standard and the first to feature an uplight option of 1000-4000 lumens. The optically superior uplight option brightens space and eliminates the "cave effect" for improved luminaire/ceiling contrast and task uniformity. Peloton is the only LED linear high bay in its class to incorporate this feature.
Pursuit™ from Architectural Area Lighting. Pursuit is the only IP66 rated exterior linear luminaire on the market that can be connected to form an uninterrupted ribbon of light up to 150 feet. This is done by providing seamless continuous runs with end-to-end internal connections and a continuous roll of external diffuser without breaks or light leaks. It also offers the highest output per linear foot for a three-inch or smaller aperture product, is the only product in its class that offers four distributions in each of direct, indirect or bidirectional optics and the only IP66 rated product in its class that offers illuminated L, T and X connectors for 90-degree bends and custom designs.
Vora™ from Litecontrol. Vora is the only architectural edge-lit troffer available in five sizes, including the first ever 1×1, with the highest lumen output and unlimited customization. It offers the highest available and largest range of lumen package across each offered size in comparison to competitors. It is also the first edge lit architectural troffer available with five standard color temperatures, in both 80 and 90 CRI, and is offered in a tunable white configuration.
SpectraClean™ from Hubbell Lighting. SpectraClean features the industry's only line of commercial luminaires available with HINS technology offered with integrated wireless control support for four modes of operation and multiple standard lumen packages. SpectraClean luminaires are capable of operating in one of four disinfection modes with scheduled and sensor control for application specific deployment. SpectraClean Vaportite is the first and only disinfection luminaire for food safety in manufacturing areas and cold storage.
Click HERE for more information on the Progress Report.