GREEN CREATIVE, the commercial grade LED lighting manufacturer, proudly announces the release of its PANEL 2X4' 38W and PANEL 2X2' 30W luminaires.
PART of GREEN CREATIVE's ELEVATE Series, these new panels use the latest in edge-lighting technology to produce a smooth, uniform lighting effect. In addition, these fixtures feature SootheOptic low glare technology that minimizes visual glare, creates a comfortable lighting environment and offers more useful light than traditional panels. With a Unified Glare Rating <19, these panels are ideal for illuminating classrooms, offices, hospitals and retail spaces.
"The new SootheOptic diffuser eliminates the glare and discomfort associated with traditional panels," says GREEN CREATIVE's Product Manager Victor Pellerin. "Our unique design provides comfortable light to the areas that need it most."
Each panel comes standard for T-grid installation but can also be suspended or surface mounted. These luminaires are dimmable on 0-10V circuits and have a 75,000-hr lifetime and 10-yr warranty. Each panel is available in 3000K, 3500K and 4000K CCT.
Detailed information and leaflet for the ELEVATE Series panels can be found here.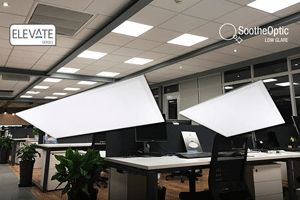 These products are available through GREEN CREATIVE distributors and are ready to ship from the company's west coast, central and east coast distribution centers. For more information on where to purchase these products near you or how to become a distributor, please contact GREEN CREATIVE at: [email protected] or (866) 774-5433.
About GREEN CREATIVE
GREEN CREATIVE is a major solid state lighting development and manufacturing company based in the Bay Area, CA. The company specializes in retrofit lighting for the commercial market, offering a comprehensive line of LED lighting solutions. GREEN CREATIVE is fully integrated with strong R&D capabilities to constantly offer the latest technology available. For more information on GREEN CREATIVE please visit www.greencreative.com. For all of the latest updates follow GREEN CREATIVE on Facebook, Twitter, LinkedIn and YouTube.