GREEN CREATIVE, the commercial grade LED lighting manufacturer proudly announces the launch of its next generation of PL DIRect and BYPass lamps for horizontal and vertical installations.
The PL EDGE SERIES horizontal (PL H) and vertical (PL V) lamps each come in two sizes: one for replacing 26W lamps and a new compact version specifically designed for replacing 13-18W lamps. Each PL H and PL V lamp also comes in ballast-compatible (DIR) and ballast bypass (BYP) versions.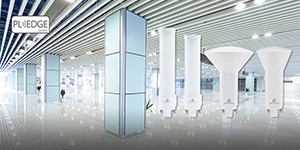 "This generation of PL lamps offers a solution for all installation types and answers a broad range of application needs," says Marketing Director, Matt Leonard. "There are many technical upgrades with this line. We've added 0-10V dimming to our DIRect products. The BYPass lamps can now run off line voltage or work directly with magnetic ballasts, and we've introduced lower lumen options for replacing lower wattage CFL lamps."
The PL DIR 26W replacement lamps are compatible with 13W, 18W, 26W, 32W and 42W electronic ballasts, and the 13-18W replacement versions are compatible with 13W and 18W electronic ballasts. All PL DIR lamps are dimmable on 0-10V circuits and use G24q/GX24q sockets. For applications that demand excellent color rendering, high CRI 26W replacement versions are available and feature a typical CRI 90, R9 66 and R13 96.
The PL BYP lamps are capable of operating directly off line voltage after the ballast has been bypassed or as a plug and play lamp with the existing magnetic ballast. These 2-pin lamps are compatible with G24d/GX24d (2-pin magnetic ballast or bypass installation) & G24q/GX24q (4-pin bypass installation) sockets. The PL H BYP 13-18W replacement lamp also comes in E26 and GU24 base versions.
All PL EDGE SERIES lamps turn on instantly, last 50,000 hours and are available in color temperatures ranging from 2700K-4000K. All PL H lamps feature a wide diffuser and 310° rotatable base capable of fitting any socket configuration. All PL V lamps utilize a patented round diffuser for greater light output compared to other square-shaped PL vertical lamps.
Detailed information and data sheets for all these products can be found here.
To make finding the correct replacement lamp easier, try the GREEN CREATIVE PL LAMP CFL CROSS REFERENCE Tool.
These products are available through GREEN CREATIVE distributors and are ready to ship from the company's west coast and east coast distribution centers. For more information on where to purchase these products near you or how to become a distributor, please contact GREEN CREATIVE at: [email protected] or (866) 774-5433.
About GREEN CREATIVE
GREEN CREATIVE is a major solid state lighting development and manufacturing company based in the Bay Area, CA. The company specializes in retrofit lighting for the commercial market, offering a comprehensive line of LED lighting solutions. GREEN CREATIVE is fully integrated with strong R&D capabilities to constantly offer the latest technology available.